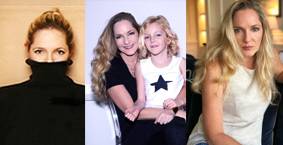 Hi, I'm Samantha, (aka Sam, Samantha Jane, SJ or Mumma) a copywriter, journalist and author. You can see my work in print, video, online and in social media and I specialize in beauty, fashion, lifestyle, celebrity and entertainment.
I love, love, love playing with words and images. Not to brag, but I've worked with brands like Philosophy Skincare, Laura Mercier, Mozilla Firefox, Lucky Brand, Coach, The Frye Company, Mark., Avon, Bumble and Bumble, Robert Graham and David's Bridal and my stories have been featured in magazines such as Self, Marie Claire, SFX, Glamour, Mademoiselle, Dan's Papers and online in Dailycandy.com and Kaboose.com. I'm a big-ideas person, conceptual thinker, word sleuth and really enjoy collaboration. 
I'm a Brit (accent included) who moved from the UK to NYC in 2000, via Cyprus and Hong Kong (yes, I can order chicken chow mein in Cantonese) who went to hairdressing school because I couldn't figure out what I wanted to do, then became a fashion model in Europe and Asia. I finally received an honors degree in Media and Communication in the UK where I fell in love with words and story-telling. Soon after graduating I got my first book deal with William Morrow and the rest (as they say) is history. 
When I'm not writing? You'll find me most Sunday mornings making chocolate chip pancakes with the love of my life, my son, or taking lifestyle photos (usually of my little guy and his crew) on the fly.